Following a Covid infection, my mother Jean Boyle died on 12th December 2020. In the hours, days, weeks and months that followed, objects surfaced from the range of her 89 years of life…
a tiny icing sugar dove that topped a 1954 wedding cake
witty hand-written letters that tentatively initiated decades of being together

blunt Hollywood film reviews with the capacity to dent famous actors and directors alike

embroidery designs inspired by a love and respect for nature.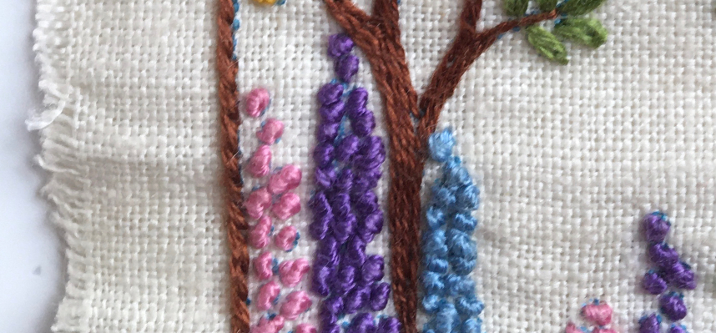 An object that belonged to someone we love can elicit the intangibles of a long relationship: memories of conversations, arguments, gestures of kindness, love, misunderstanding.
The object can serve as a nexus of the emotional interactions that bind us to people we love, restoring stories seemingly long-dissolved by time.
Intangibles arising from such objects can re-establish a sense of possibility, of interaction, with the person whose role in our world has otherwise ended.
We can re-frame these things to tell new stories about our present and our future.
Read exObject 1 'Peace'

——————————————————————–
Plans for 2022
Writing by A.T. Boyle will be shown on exObjects and in related media and activities in 2022.

If you would like to share short recollections of someone you have lost through an object associated with them, get in touch:
– follow @exObjects on Twitter
– DM (direct message) and we will respond.
Find out more about the creative formats and how to get involved here.

——————————————————————–
Read exObject 1

Read exObject 2
Go to the exObjects Home page

Return to the main artsilk Home page