'Double-glazed windowed birthday' by A.T. Boyle
You. Us. What next?
Laughter. Wax flowing over chocolate ganache.
'It's you's supposed to be blowing out your candles, Mum! … Shall I blow for you?'
Yes, you nod. Yes.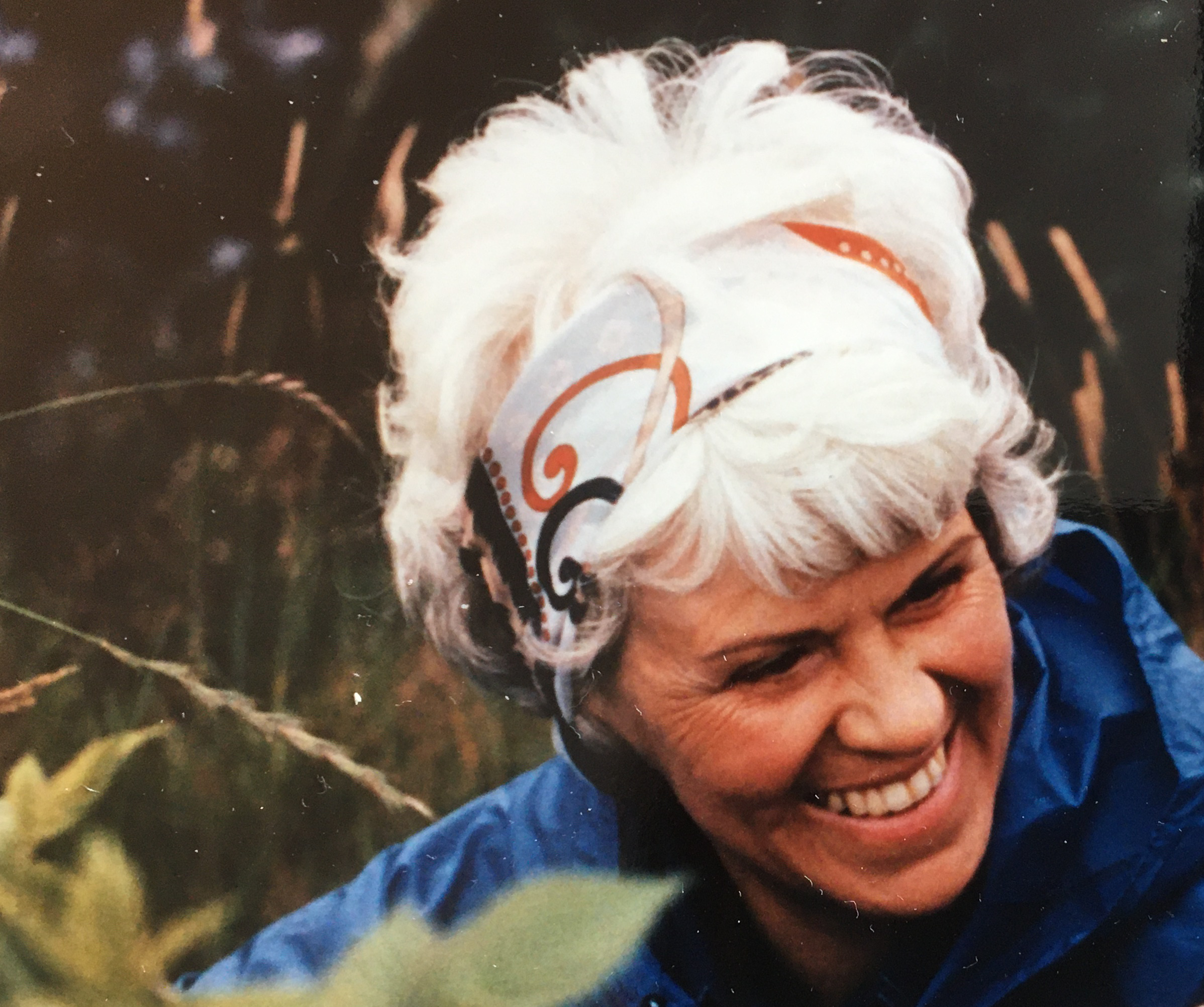 No pressure then. All flames must be gone in a single breath. That's the family rule. I mustn't let you down.
I don't want to blow out your candles.
The final flame is a restless beacon, but that goes too.
Your granddaughter cuts four slices. You stand up slowly and move to the far end of the kitchen. Dad's smiling, going along with it. Cake and posy and presents are all posted through a door slit. You sit again, praise the cake, sip from two small mugs of tea. We open the thermos we've brought so as not to breach the barriers.
Rewinding this account by half an hour….
We spy on you from the car, watch you through the window setting out two chairs in the middle of the kitchen. One for you, one for Dad, now with two kinds of dementia. These chairs face the extension. They are set in a perfect position for you to see across the sink to where your granddaughter and I will be standing: in the extension. You'll have tested the angles.
The back door's already unlocked. We arrive, late. Freezer meals, crumbles, posy of flowers with a wad of cotton wool wrapped in an elasticated bag, cheerful presents, everything tumbles to the floor just as we are tumbling. Your granddaughter manages to hold on valiantly to the birthday cake, although her cheeks have blushed.
You sit side-by-side, obedient pupils. Obeying the rules.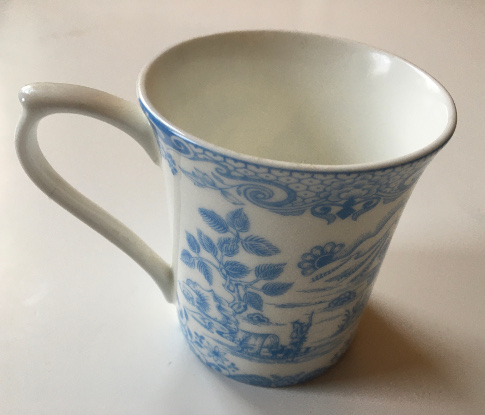 Jean Boyle's favourite mug, a Willow Pattern design in glazed porcelain
We smile, embarrassed by this first implementation of a new order, so alien to our instincts to come up close. Scared by the danger we present to each other and to others. Minds whirling. This is not our habit.
Stalled, two in the kitchen, two in a cold extension, the glass divide unshatterable.
Balloons bob into view, reminding us of an 89th birthday. We silently, individually, ask what we can salvage. Your eyes anticipate joy. We'll make of it what we can. Mimes and gestures penetrate your surprisingly high-spec windows. Nods, head shakes. Words that need repeating.
It will be all right, your face tells me. We're all doing what we must do.
What your granddaughter and I must do is dip out of sight behind the extension cabinet, find the candles in the mess strewn across your floor, place the cake on a plate without cracking its sponge, light candles that spell 89.
These matches we brought are pathetic. Or maybe it's the candles. Flames begin to chargrill the already messy ganache. Some candles refuse to light at all.
I peep up to see what you're doing. Sitting patiently, wondering why it's taking us so long. Happy. Expectant. The best entertainment you've had in weeks.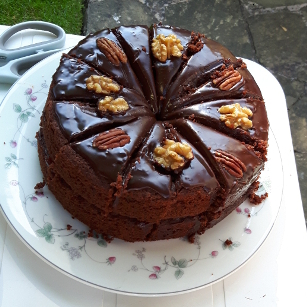 A candle-less cake from a birthday before lockdown,
made by Jean Boyle for her husband

We bob up from the lino of the extension floor. Our Happy Birthday duet transcends the double-glazing and your joint hearing loss and our physical gulf.
Your small voice joins in. Then as the end of the song approaches Dad comes in too. With that familiar full-throated velvet we have missed he brings all our four voices to harmony. We each hold the note. Do we hold that final note.
'youuuuu…'
It was good to see you. It really was.
(Copyright A.T. Boyle, 2022)
_________________________________
Read part 1 of the #Parties trilogy
Read part 3 of the #Parties trilogy
_________________________________
Read Jean Boyle's Other lives obituary published in The Guardian on 10th February 2021.
Read Terry Boyle's Other Lives obituary in The Guardian on 30th August 2021.