'March' by A.T. Boyle

It's wonderful to whirl round our sunny garden snipping flowers here and there for your birthday posy. We'll be late. Reliable in that. I'm taking care not to select flowers grown from your own cuttings. Can't remember them all. It won't matter.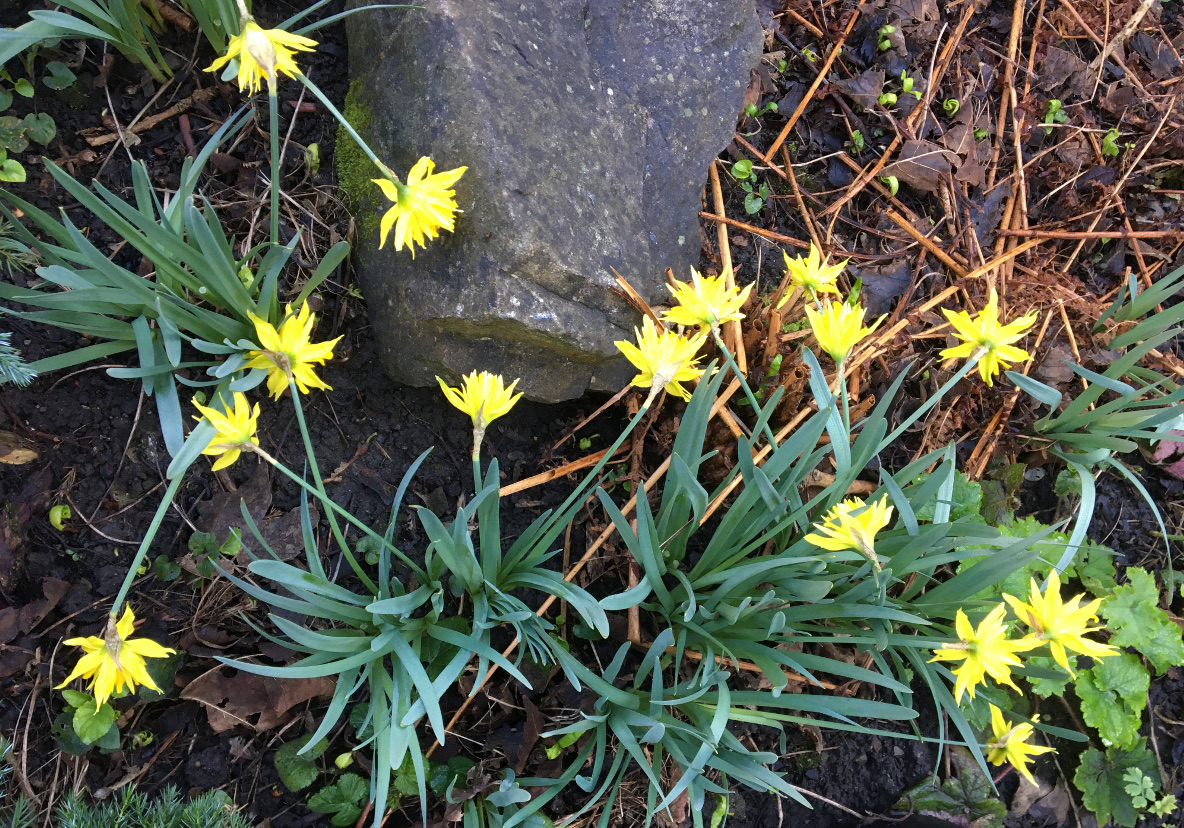 About to get in the car and drive to your house for our family celebration when we remember the half-size daffodils flowers we snipped, waiting for us on the hall table. Then we remember that we forgot your wet cotton wool idea for keeping posies fresh in transit. Oh, and our pre-inflated balloons upstairs. More minutes late.
The back of the car laden with meals and fruity crumbles and song lyrics if we're in the mood, and we're off. I'm feeling beat already. Efforts to support your independent spirits in lockdown will never balance a lifetime of efforts made on our behalf.
I pester your granddaughter to hold the cake tin tight as I take sharp corners too fast (we're late). Whatever graces we've manifested in that chocolate cake must be protected. Made to your recipe and tutored techniques, we'll never attain the sleek ganache of the cakes made for us.
Creeping down your drive in optimal purring mode for a car this ancient, we're thrilled our arrival has caught you out. We secretly watch you re-boil the kettle for the umpteenth time. We guess what biscuits you've bought online to ring the changes. We might manage to make you jump at the sound of your doorbell.
We do. We stand impatiently on the step, waiting, arms laden with love and a still-cheerful posy. On the other side we'll take turns to hug, catch the scent of each other's skin, acclimatise to being together after all this time.
This never happened.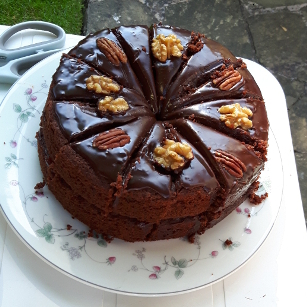 Chocolate ganache birthday cake topped with alternating walnuts and pecans

Actually, that's not quite accurate. There is a true story that contains a ganache-topped cake and singing. Oh yes, and we were late. Too late to be at my mother's side as she died in hospital alone during the pandemic.
(Copyright A.T. Boyle, 2022)
_________________________________
Read part 2 of the #Parties trilogy
Read part 3 of the #Parties trilogy