Sunehri Saleem and Tommy O'Reilly
Sunehri Saleem, the young woman in the story from Pakistan to Preston, was born in the Mirpur region of Northeast Pakistan.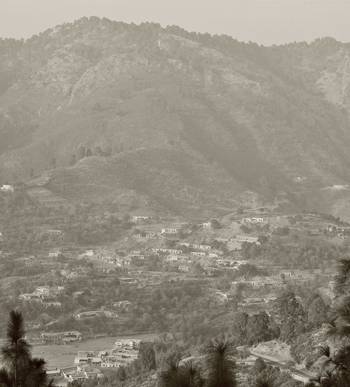 A Mirpur hillside, Northeast  Pakistan (© Zill Niazi)
The young man in the story, Tommy O'Reilly, is of Irish origin. He was born in Preston in the county of Lancashire, Northwest England.
Sunehri and Tommy fall in love while working at a factory that makes artificial silk textiles.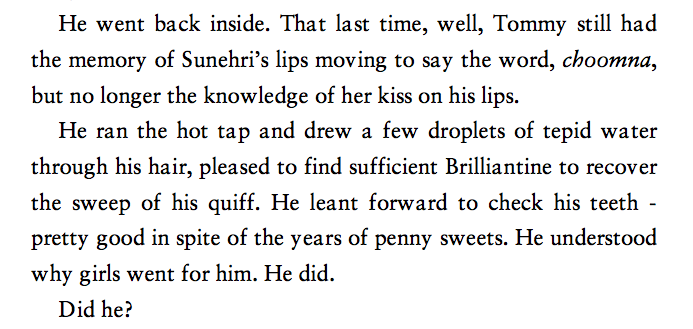 (above) page 103, from Pakistan to Preston (Urdu by Anjum Malik)
The process of making artificial silk is intertwined with factory culture and community. As the apprentice's feelings unravel, Tommy associates technical obsessions with his emotions.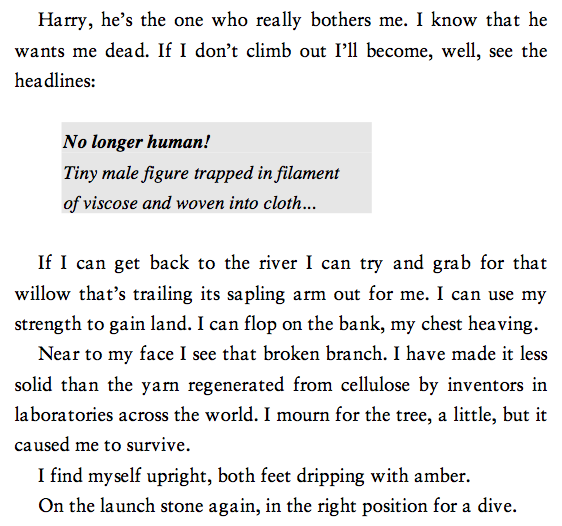 (above) page 212, from Pakistan to Preston
Urdu and Lancashire dialect
Roman Urdu is woven through the novel. This is a phonetic way of presenting the spoken sounds of traditional Urdu Script. The phonetic spellings make it easier for non-Urdu speakers to experience its rhythms and meanings.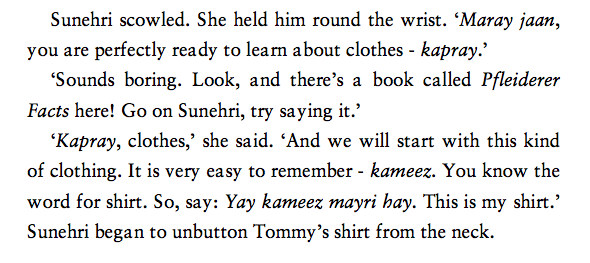 (above) page 27, from Pakistan to Preston
There are differing views about the efficacy of adapting established languages. Mustafa Kemal Atatürk met with opposition when he changed the Turkish language during the country's transition from Ottoman Empire to modern state. There appears to be a gradual acceptance of Urdu Roman to help broaden understanding.
In our fiction story, Tommy's working class parents speak less broadly than the gin-drinkers in Walter Greenwood's book about 1930s Salford Love on the Dole. As an auto-didact, Tommy's accent is less pronounced than some of his fellow workers'. In the book from Pakistan to Preston, newly-written lyrics in the style of weaving songs from the Victorian cotton mills feature Lancashire dialect.
The British Nationality Act 1948, which came into effect on 1st January 1949, created the new status of 'citizen of the United Kingdom and Colonies' (CUKC). The result was that people from The British Colonies could come to the UK without needing a visa. There was a labour shortage in the UK, and many Pakistanis came to work in the North's manufacturing industries.

Mangla Dam, Mirpur (© Zill Niazi)
When Sunehri was five she moved to Preston with her mother and father and some of her aunties and uncles, including Harry Manzoor and Naseem Butt, who work at the local viscose factory. Sunehri's father returns to Mirpur to work on the Mangla Dam, a real project to flood the valley for hydro-electric power. It is estimated that about 70% of the Pakistani diaspora originated from Mirpur, which some people call "Little Britain."
Anjum Malik advised on the Roman Urdu in the published book.
An arts project called Lancashire to Lahore at the University of Central Lancashire describes a contemporary artistic exchange between two places that are relevant to the story.
Pigments and Dyes
Workers from the Northwest of England, Pakistan, India, the West Indies, Poland and many other countries made artificial silk in a real Lancashire factory.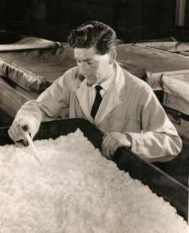 (© nonwoven)
In the book, Sunehri and her family in Pakistan dye, plait and weave wool for tassels and rugs, while in Preston Tommy O'Reilly uses pigments to colour the artificial silk.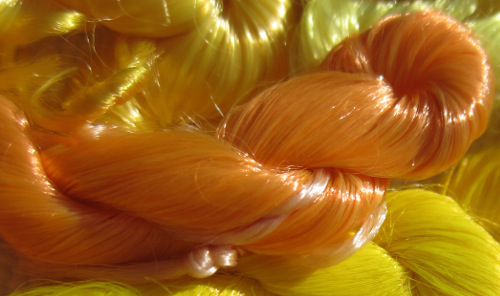 (50 year-old Lancashire artsilk © A.T. Boyle)