'A Brief History of Cars' by Afreena Islam-Wright
The earliest car I can remember being in was our Nissan Bluebird. All that I can reliably remember is that it was sky blue.
The next car was a red Toyota Corolla – we went to a dealership to buy it, and I got to sit in the passenger seat while my dad drove it home.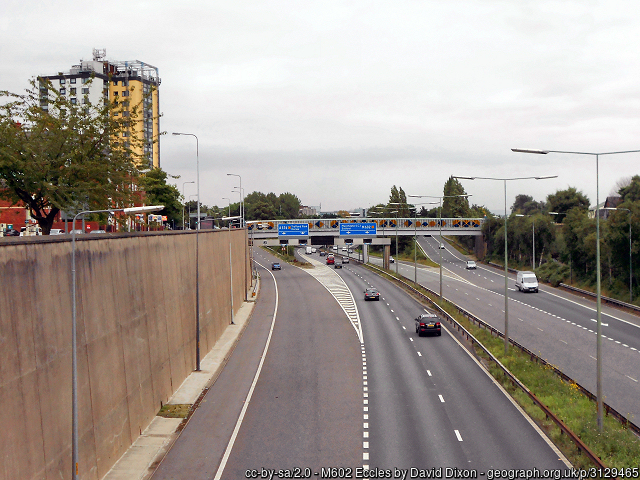 M602 road from Manchester to Widnes as it looked when the author travelled to her father's restaurant in Widnes

I'm pretty certain this was the car that my dad melted the radiator on. When the mechanic came round he exclaimed to my mum in his strong Jamaican accent that he'd never seen anything like it in all his life. When I say mechanic, I mean Ronnie, the man who owned the tyre shop down the street. My mum and dad were on a budget.
Then it was back to Nissan, a Sunny, and then an Almera. The Almera was the car that took me to high school. Metallic greeny blue, apart from the passenger door which was red.
I want to say two things at this point:
1. Some might think I was privileged to have a car in the family and be driven to school, but my teenage self definitely did not appreciate it.
2. The other thing I wanted to say was my very Asian family was obsessed with Japanese cars, and actively turned their noses up at Renaults, Peugeots, and Fords. This is a thing, right? I see loads of us repping them!
I can still hear my dad's voice saying "Japanese gari very good".
During the Almera days I was taking driving lessons, and when I passed, I inherited my brother's Fiat Punto – black, and the number plate was K800 ELL. Kelly. My brother was banned from driving at the time – his first ban. My dad bought this car from Police Auction. I love true crime and police auction. As grim as it is, it does excite me.
Kelly met her demise partly at the hands of the police, actually. I stopped at a crossroads because I could hear a police siren. The car behind me didn't stop, crashed into the back of Kelly, pushing us into the path of the oncoming police car. It swerved, stopped, and didn't make it to the crime it was due to attend.
After Kelly there was Max – navy blue Honda Civic Max. I bought this car off eBay and drove it for the first time all the way back from Castleton. My dad was in the passenger for a change.
We lost Max on a trip to the orthodontist. I was at work and my sister phoned me with the news.
Before I was born, my dad once took chase from police (most likely for speeding) and escaped them, and then got on a flight to Bangladesh, where he spent the following 6 months. He returned and handed himself in to a police station, and his solicitor was like, "Why did you hand yourself in on a Friday when you're going to have to spend the weekend in jail! There's nothing I can do for you, Mr Islam, until Monday."
For my 30th last year I upgraded, treating myself to a Mercedes GLA, 220 AMG line premium with night pack, automatic, 4-wheel drive. It's red, with red seatbelts and red stitching on the all-leather interior. It has race-car seats. My siblings bought me a private plate as well – AF 13 ENA. Can you hear the excitement in my voice?
The congratulations came rolling in when I bought it, like it was my third child. I don't know if you'll understand the significance of this achievement. An Asian thing maybe, like the Japanese car thing. Put it this way, it's the thing that my dad would be most proud of.
I feel most like my dad when I'm driving.
I can't end without a shout-out to my Black Honda Civic, PO59WND, which was the most faithful and reliable companion for 8 years. Hondy saw me through heartbreak, childbirth, loss, national tours, new jobs, and joy. If you've been in it, you were privileged.
(Copyright: Afreena-Islam Wright, 2022)
Twitter: @afreenaazaria
____________________________
Go to the next exObject.