(by A.T. Boyle)

Your family albums are piled against a wall. I've leafed through the second oldest in some detail now.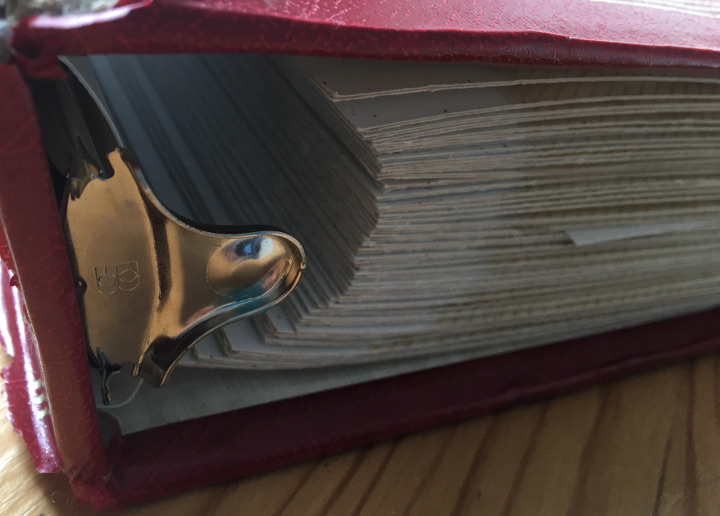 Three undated photos caught my eye. In one you sit side-by-side with a stranger, evening out, white gossamer gloves and a 50s cream dress (probably home-made) lending an air of elegance. Arm in arm with your fiancé Roy, his dark suit and upright bow-tie complement the care you've invested. Both aged about twenty, with equal warmth you meet the requirements of an un-named photographer. Neither subject yet wears an engagement ring.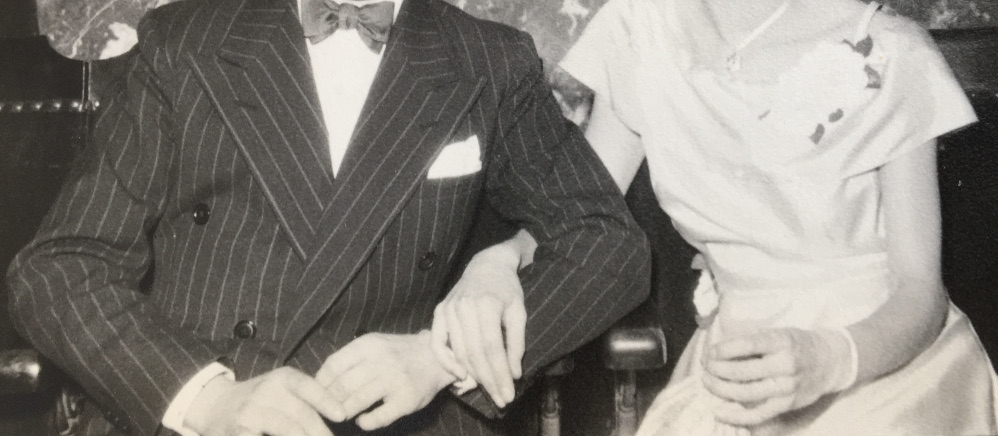 Roy, with Jean Boyle: looping arms on a night out in a factory social club in Northern England in the early 1950s (1/2 images)
On the same page is a photo of Roy in studio pose, this time seated alone and carefully cross-legged. Everyone from that period looks older to me but maybe this is a twenty-first birthday projection of a future life. Confidence and promise shine through. Roy has selected subtly striped tweed combined racily with a spotted tie that's knotted to perfection. I like the look of Roy. Dad and you always agreed he was a lovely man, important but bland information about someone you intended to marry.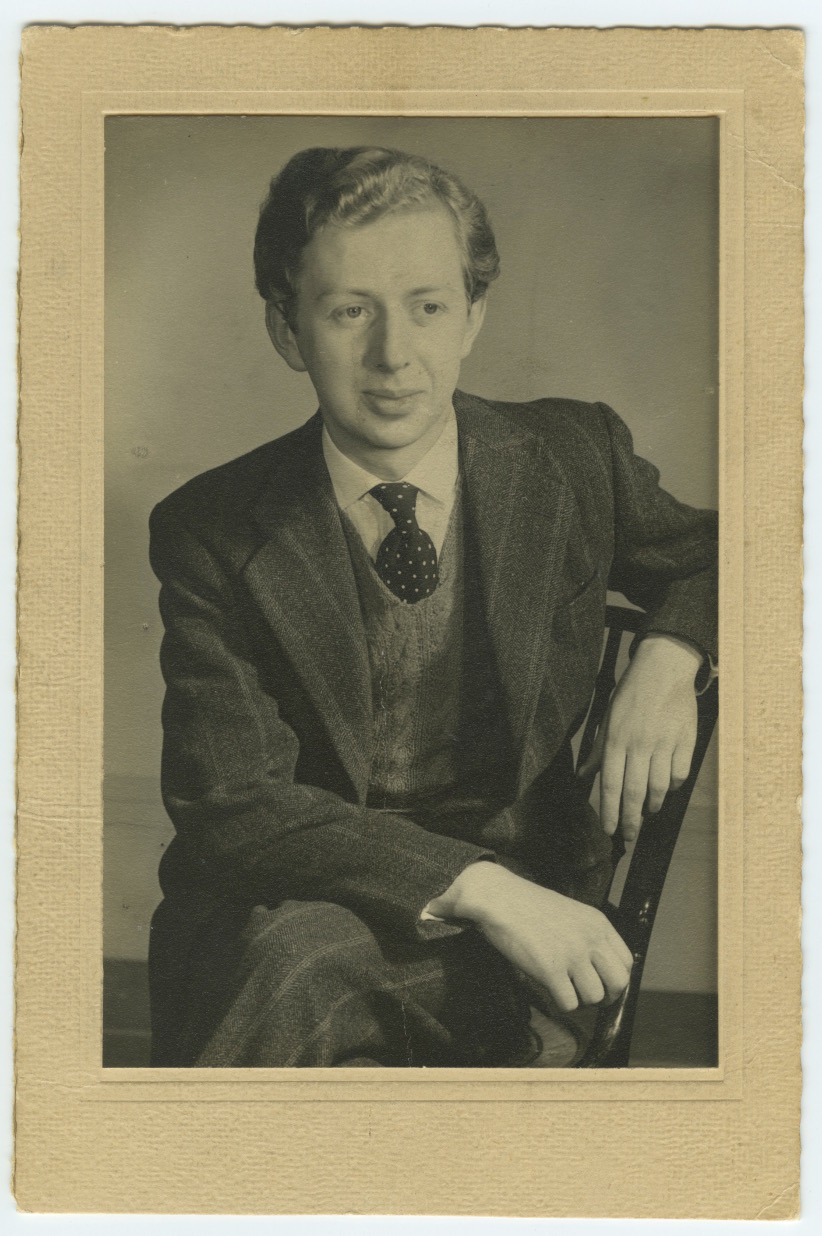 Roy in photographic pose, Preston, Lancashire

The equanimity you mastered in the seventy years following Roy's death, which at times kept your large family afloat, gave no hint of suppressed secrets relating to this man, so a stranger might admonish me fairly for not interrogating you while I had chance. But I know there was slim chance of revelation. You held onto privacy like a lucky penny. I must accept that I will never hear anything specific about Roy's kindness, his wit, what he loved most about you, how you learned of his death, who you turned to when he was gone.
What follows immediately from the Roy photos is a short set of smiling representations of you with parents and siblings against the manicured council house garden, followed by you all against a flat sandy beach. I can't understand how these images can be congruent because you appear perfectly happy. I turn the page and you're out on a date with Dad. Ring fingers are not visible. How many months passed between Roy sitting on your right and Dad sitting there? Given the expense of photography, what am I to understand about the time-frame of your determination to move on? I'm imagining that you and Roy each acquired a print of your night out, the beginning of something important, and unless he was vain or you asked him, perhaps the studio pose was donated by his family, a graveside act of condolence, a sharing of grief? Two renderings of someone you were planning to spend the rest of your life with isn't much.
When I place my three selected images side-by-side (as you did not intend them to be) Roy's complexion appears paler than Dad's, which began Irish pale and turned at most a ripe raspberry after hot summer hours dedicated to tanning. Roy's lips and hands appear podgier. I like the way Dad's long fingers intertwine yours. I like knowing that his wayward tie and open smile, a lit cigarette poised confidently between the fingers of his other hand, said nothing about his faithfulness. (Returning from a work's conference, I remember his outrage at seeing married colleagues fall into bed so easily with others.)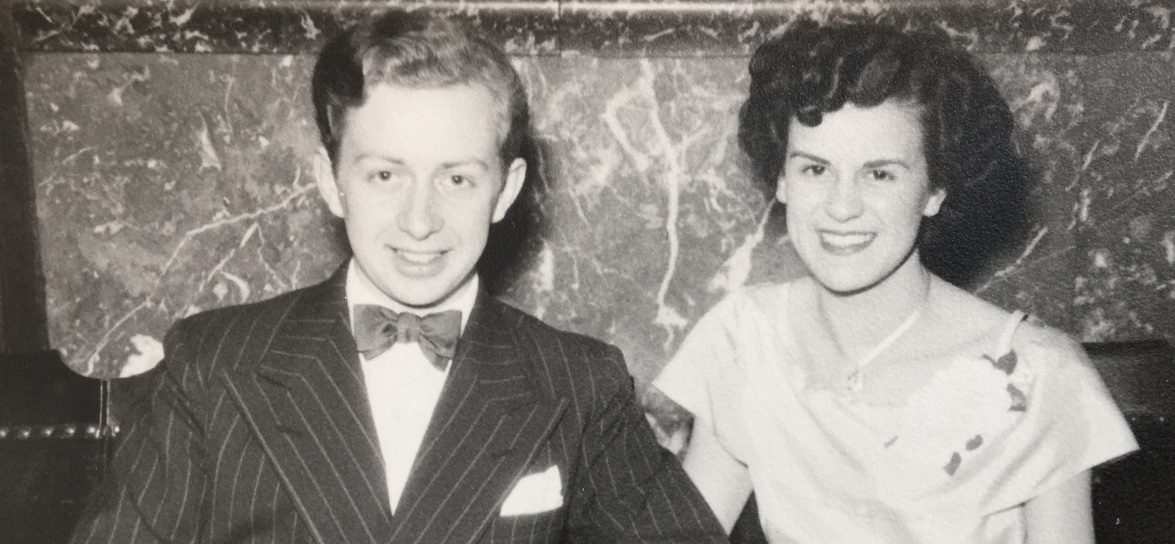 Roy, with Jean Boyle: looping arms on night out in a factory social club in Northern England in the early 1950s (2/2 images)

Your blackbird eyes look out at me, electrified, daring me to enjoy your new beginnings, to experience your hopes. I remember these eyes in later years as more demerara than muscovado, by then wearied by motherhood or breadwinning or an unhealthy obsession with housework. Dad's thick hair is sculpted dramatically because of Brylcreem, and a perm undulates the ramrod locks you were born with. But Roy's hair appears to flow as naturally as the ship doodle he made for your young brother while you took your time coming down for a date. Sailing was never a subject of family conversation, suggesting aspirations beyond the tight-knit Northern community that was your eventual course.
Just when I'm about to leave this tour, feeling a little dissatisfied, I flip Roy's studio portrait. An ink-blue stamp identifies the factory photographer commissioned to take your wedding photos in 1954. I realise you must have all been colleagues in the textile factory joined as teenagers, that Dad will have seen you and Roy together, and you will have seen Dad with the other "girls" described in his initial love letter. The three photos represent promise and the possibility of discovery, if only through my imagination. Even so, I still would not understand why you chose Roy first, because you did not tell me yourself. The Roy was a lovely man duet must have incorporated an acceptance that, if he had not died, Dad would not be wearing the wedding ring you pushed onto his finger.
Efforts to find Roy's grave are not helped by no one knowing his surname, a name you would have taken on marriage. In the imagery of Roy lies a dual possibility: that you might have lived a more open life where emotions weren't hidden so deep because you had not seen a man you wanted to marry die. And that you may never have had children, never mind five. If Roy hadn't died, if you had married Roy and spent your lives together, a certainty is that I would not have grown in your womb, you would have not been my mother, I would not have existed. And, your children would have been spared the fission that occurred at your death, when your clever architecture became quickly overwhelmed.
Fragile, modest strength persists through a far-reaching signal. I must listen hard because your voice has quite gone. Maybe I can accept what you said, that you lived a happy life, made possible (though you liked to chat) because of your huge capacity to hold and not divulge. The footless sugar and water dove wasn't made to fly, and a wedding cake foundation is no longer required. What you did through your long lifetime was sufficient. The dove can stay in my wardrobe while it's left for me to decide.
(Copyright A.T. Boyle, 2021)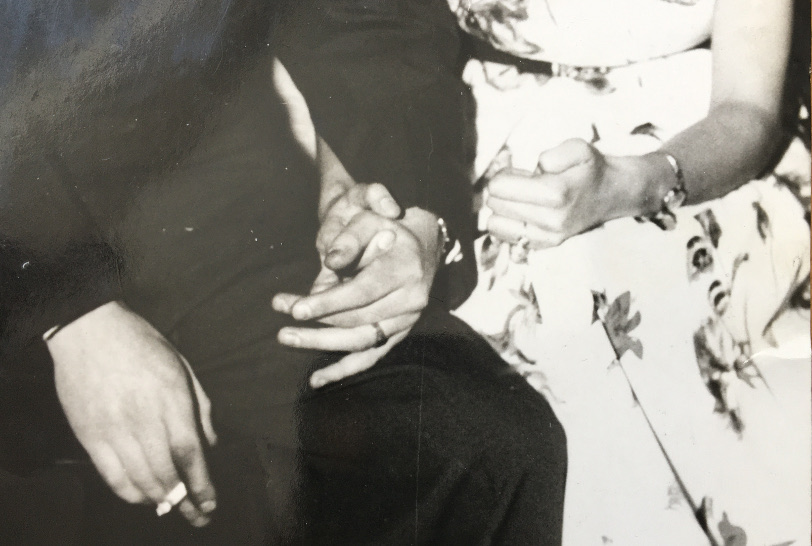 Terry Boyle and Jean Boyle holding hands on a night out in the same factory social club in Northern England, 1955
__________________________
Read Peace
Contribute to exObjects 2023
Return to exObjects Home page
Return to main Home page