'The Typing Man' story is published as an eBook and a special edition block-printed book with silver foiling on a woven purple paper ground.
The translator Gül Turner was the Director of the School of Arts and Culture in Istanbul, the cosmopolitan city where she was born. After graduating in Journalism and Public Relations, Gül completed a Master's in Marketing.
Gul worked as a cultural correspondent on the Turkish newspaper Millyet and for the Turkish publisher Dogan. Gül has organised cultural events and literature festivals in the UK and Turkey. She co-edited a short story anthology 'The Book of Istanbul' published by Comma Press, and contributed to an evening of Turkish stories in Liverpool.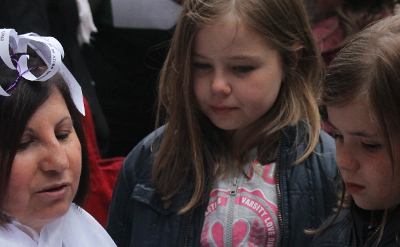 Gül Turner with two young creative letter writers in Liverpool, part of The Typing Man community events
Zerrin Özalp Öztarhan, proof-reader of the Turkish text, is an experienced editor based in Istanbul. She and Gül ensured that the story was engaging for readers of the Turkish as well as creating a high-quality translation for readers of the English.
A. T. Boyle is the author of 'The Typing Man'. She has written extensive magazine and online content and she launched online book reviews for Orange. The founding and managing editor of a BBC magazine with weekly sales of 60,000 copies, Alison has worked as a publisher of books and digital in London, Cambridge, Oxford and Bath.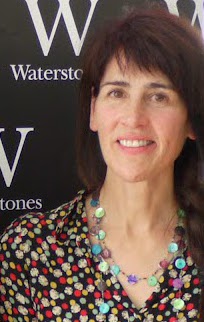 Alison wrote the children's version of a story created for adults by the Turkish author and activist Aziz Nesin. Workshops about this tale of love between two very different creatures in 'The Dance of the Eagle and the Fish' were presented at the Roald Dahl Museum and Story Centre. The name Aziz Nesin was adopted for a character in 'The Typing Man'.
You can buy a copy of 'The Typing Man' eBook
Look inside the book by clicking here …
To buy a limited edition book printed in Cumbria in Northern England featuring original illustrations, email: exObjects2022 @ gmail.com