This is the eulogy I delivered at my mother Jean Boyle's funeral just before Christmas 2020.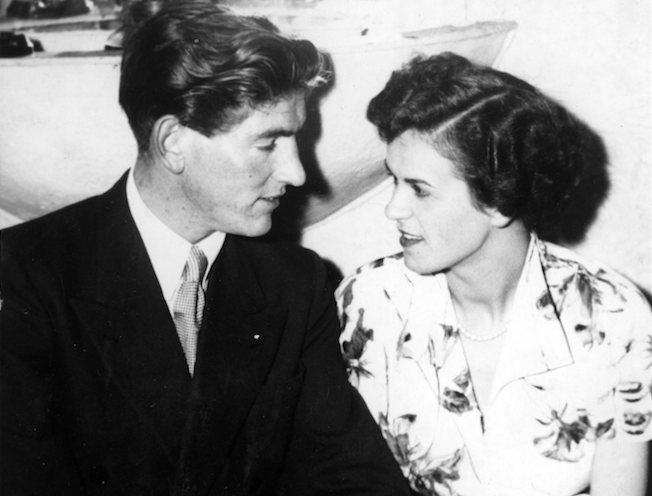 Two Letters Sent in Preston Guild Week, 1952
Dear Jean,
I would be very pleased if you could possibly be my companion during Guild Week.
As you know I have no girl now,
and I am stuck with tickets for two dances,
and I may possibly have more.
The week could be a purely "platonic" one — if you would like that!
This all sounds a bit sudden and probably silly too!
But then it's what is expected of me.
Or is it?
Yours
Terry
——————————————————————–
25th Aug
Dear Terry,
Thank you for the invitation.
As you say, it was rather sudden,
but I think I'll just about manage to survive the shock.
You surprised me,
so now I'll surprise you by saying "yes".
I couldn't bear to see those dance tickets being wasted.
I have already made arrangements for Monday,
but apart from that my time is pretty well free, — 'to be your companion'.
Jean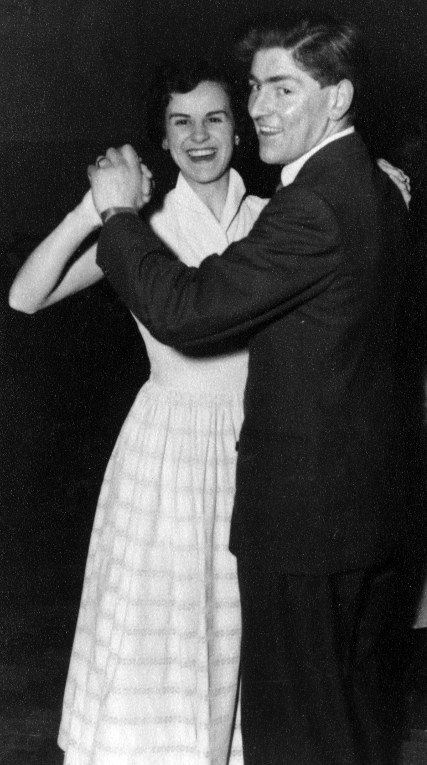 Jean underscored her signature with a bold flourish, its line running almost (but not quite) off the page.
Terry's first letter to his 'Mag' was on printed letterhead, unusual for a working class Preston lad. Graphologists might call his curlicued letters 'exuberant'.
Her childhood Cedar Road address was handwritten, precisely-formed, the words inked upright, well-spaced, well-paced.
Two young people, unsure of how things will turn out.
——————————————————————–
Talented sewer,
age nine instructed by a headmistress to visit every class,
show off the precision of her embroidery.
Talented at Maths.
Titration guru in the lab. Teacher.
Supersonic knitter
picking up dropped stitches while cooking for seven
(she got this off her mum).
Fiendish gardener
(she got that off her dad).
The skirt I'm wearing? Mum wore it too.
Colourful leaves.
Maker of her wedding dress.
Creator of my dresses (some embroidered).
If only she'd been less supersonic throwing them away when they no longer fitted.
Verbatim storyteller,
protesting if we gave her 'too much' credit for those flashes of humour
and quiet imagination.
——————————————————————–
Video call, hospital/Mum and Dad's house, December 2020, mid-afternoon
Mum and Dad are delighted to see one another.
They laugh and joke about our Christmas tree fairy with its 1980s puffed sleeves.
How are you doing?! They ask.
'When you come home…' Dad says.
Happiness.
Love.
——————————————————————–
Video call, December 2020, hospital/my house, bedtime
Mum is tired. We both are. 'A second treat,' she says.
Little need for talking.
Mum's message is a gesture.
She smiles,
satisfied we've shared what we wanted to share.
She raises her right hand, kisses her fingertips, and sends them in a purposeful arc,
the entirety of what she wishes to say reaching its destination forty miles off.
Of course I send copious kisses back, saying 'goodnight' over and over,
elongating the joy when she wanted to sleep.
She smiles, lets me go on a bit.
The gesture wasn't solely for me.
It was for all of us.
——————————————————————–
Two young people
unsure
of how things will turn out.
66 years of marriage, yes,
boxes of anniversary cards saved by a woman who kept nothing she didn't need.
But before that, daughter to Alice and James (Cotton Weaver, Iron Foundry Clerk).
Sister to Tom, Pat, Jim.
Friend, to at least four Annes.
Daughter-in-law to lovely Annie and Frank Boyle (Cotton Weaver, Iron Foundry Moulder).
Aunty.
Neighbour.
Five children, five grandchildren, one great-grandchild.
——————————————————————–
Two old people
knowing
how important they were
to each other
and to all of you.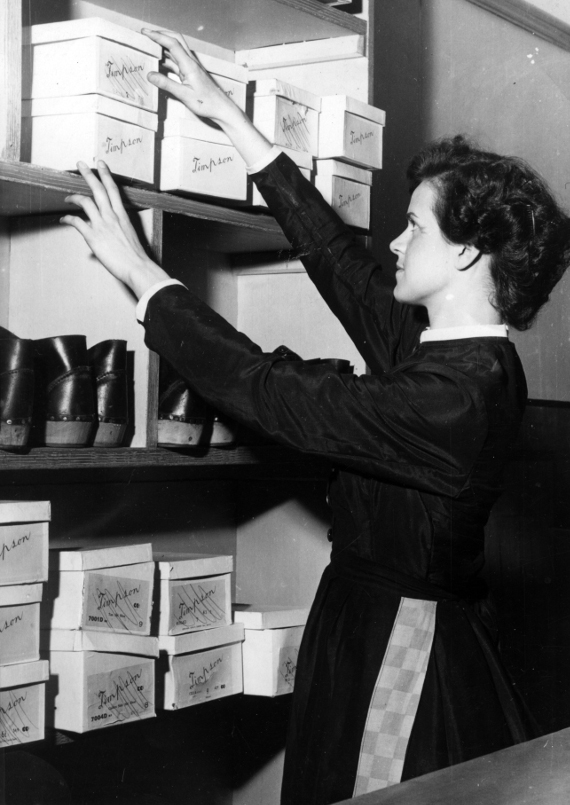 Jean playing the role of Vicky in the play Hobson's Choice, 1951, aged 20. She acted in Courtaulds textile factory drama club for nine years.
——————————————————————–
(c) Alison Boyle 2020
Home page.